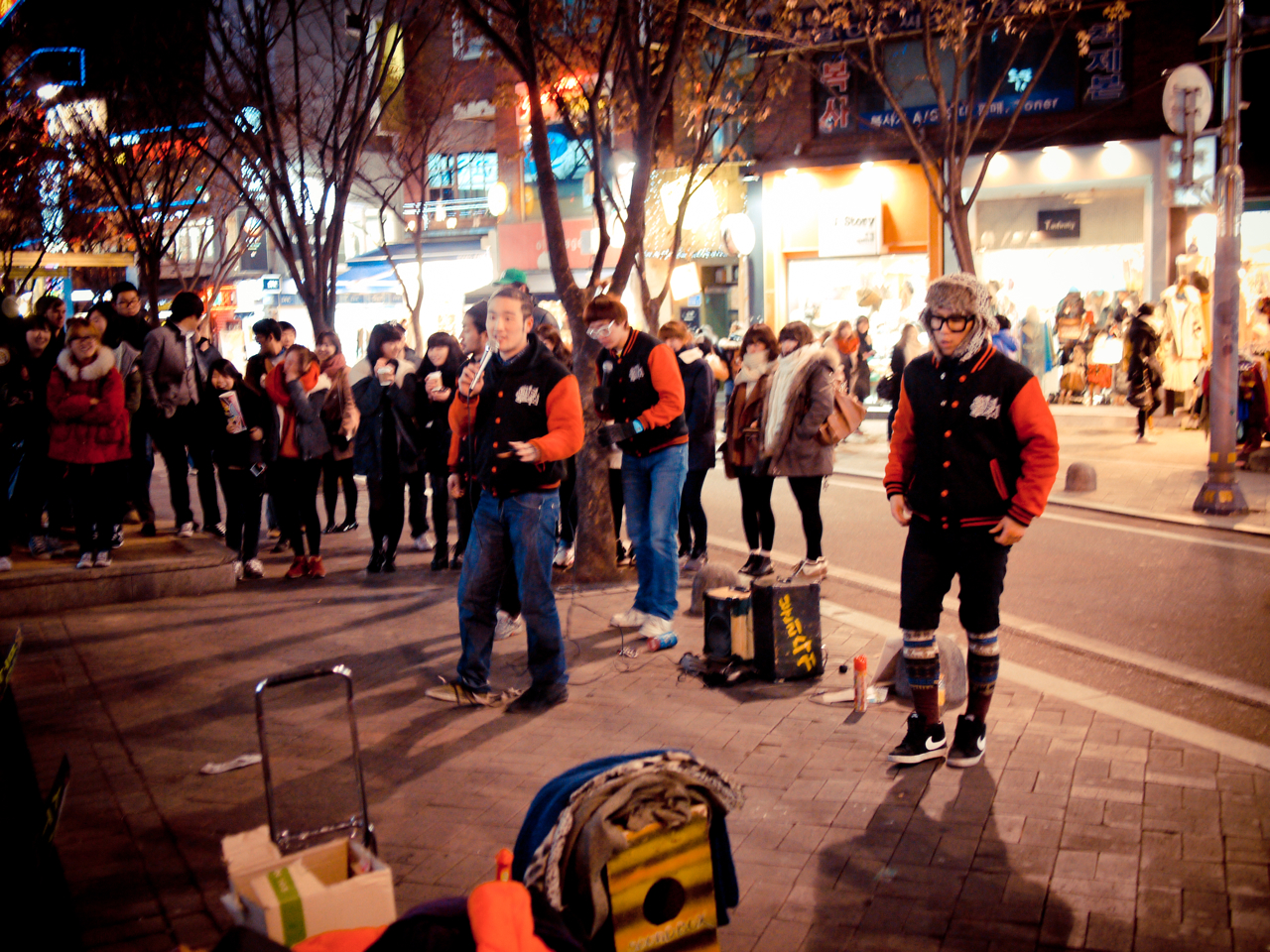 by RedpoleQ
Want to make the most of your night out in Seoul? While you'll need to know where to go. If you're new to the country, then make sure to bookmark these two night spots in your memory. You're going to need them.
Hang in Hongdae
The most raucous of Korean areas, it's teeming with students.  Located near Hongik University, it's laid out for pedestrians with street spider webbing out from the main drag and lined with bars, restaurants, food stalls, and Korean karaoke rooms (nori-bangs).
Many people really like the bohemian, artsy, alternative feel of Hongdae and you will see far more girls and guys with wild piercings and tattoos strolling around.  It's also the most common area to find street musicians playing until morning.  It's also the home of the rather small heavy metal scene which is centered on a bar called 3 thumbs located across the street from the park.
There are more clubs and bars than you can shake a stick at. There's also a park where people go to drink late into the night.  There are usually a few guys with drums or DJs playing free music too.  A lot of guys like Hongdae for the laid back atmosphere and the vibrancy of young unspoiled students.
Crowds usually throng the streets so that you don't even need to go anywhere at all if you want to meet women.  You can spend the entire night strolling around chatting up Korean women with a beer in hand from the local convenience store.  If you do go someplace, then you'll find that there are some spectacular venues with really great layouts.
While this is a predominantly Korean area, there is a healthy mix of  foreigner bars too which gives Hongdae a really nice, chill vibe.  One of the newest is called, Thursday Party which seems to have originated in Daegu and recently opened this location.  You can find girls that are looking for foreign guys here and have a more open international vibe going.
There is also the (in?)famous bar FF which is also knows as a haunt for foreigner lovers and with 2 hookah bars on the same street, if you do meet some naughty fun girls, you can bounce them to my favorite which is called gr8.
The clubs in Hongdae aren't known to be very good for meeting women but in general your best bet is NB2 which is a hip-hop club on 2 levels that is always crazy packed on weekends.  There are people there on weekdays too.
Because Hongdae action is very street focused it gets very dead in winter, but is amazing in summer as long as school is still in session.  Go out in Hongdae at the end of exam week is and it's the biggest street party in Asia.
Girls of Gangnam
The upscale night life area in Seoul, this is much more Korean than the other areas.  In many, if not most of the venues you'll see only a handful of foreigners at most.  The bars tend be more Korean style and the clubs tend to be filled with the beautiful image conscious people.
The biggest and best known clubs in Seoul are here, and they bring in DJs from all over the world.  The clubs in Gangnam are the places to see and be seen and they have the prices to match.  Of course, the venues are beautiful.  The sidewalks are wide and the building facades are brand new and well kept.
It's not the most foreign friendly area though and you can get some really rude people here and there.  I've even had trouble getting into some of the clubs and was kicked out of one — my consolation prize was that BlueM was already outside waiting for me when I arrived because they got him first!
(Did I mention that sometimes Koreans can be touchy about cross-cultural dating?)
Some people don't like the snobbery and snootiness of Gangnam crowd, and find the pretentiousness stifling, preferring instead the fun carefree attitude of Hongdae, or the more down-to-earth, open feel of Gangnam.
A Range of Options
No matter where you choose to party, though, Seoul has some amazing night spots — some of the best in all of Asia! Make your weekends count by keeping current with Asian Dating Monthly. We'll have more on night venues and party places in Seoul, Busan, and not to mention a whole range of other cities in Asia. Until then, happy hunting!